On Campus Church Service 
This Sabbath, July 25, we will be streaming the Southcentral Camp Meeting services in place of our usual Sabbath School and Church Service . Sabbath School with Melvin Santos will begin at 9:45am followed by Divine Worship with Kevin Miller at 11am.
There will be no Zoom broadcast of Dan Bergeron's Sabbath School our the regular Church Service on July 25, as we encourage you to visit the Alaska SDA Conference website to view the presentation schedules and viewing options.
As we move forward and hold on campus services we ask that you please observe social distancing and observe posted signs.
Online Church Services
Sabbath School and Church Service will continue to be accessible online through an on-line app called "Zoom." We highly recommend that you download the Zoom app onto your devices today, to prevent you from missing the services because of potential download issues.
Also available for download, on many apps, and online, is the SDA Church Hymnal which will allow you to follow along during the song portion of our service.
Click here to view the Sabbath Schools, the Prayer Meeting, and the Main Church Service links info
Click here to view the Online Giving Info Page to learn and view tutorials about the different ways to continue to give.
---
2020 Virtual Camp Meeting, July 21-25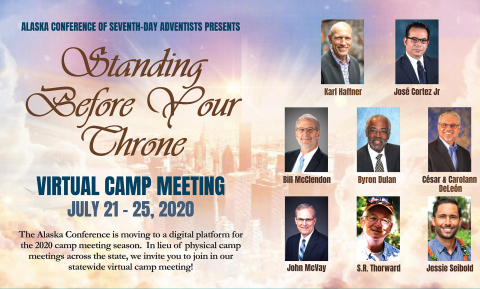 Southcentral Camp Meeting 2020 is going virtual! The COVID-19 pandemic has raised all kinds of questions about when large groups will be able to meet, or even whether people will be ready for that. In spite of the uncertainty, the spiritual food and camaraderie, the tradition of camp meeting is still important.
So while we won't be meeting in person at Pioneer Peak in Palmer and at other camp meetings throughout the summer, the Alaska Conference has planned an  online experience to encourage and connect us. What does Virtual mean? Programming will be accessible from your desktop, your tablet, or your cell phone. Churches that are able to gather in July can even host viewing parties! It all is still happening July 21-25, with programming for all ages, including José Cortez Jr. and Karl Haffner as our featured speakers!
Alaska Conference Website with more info                      Alaska Conference Facebook            Alaska Conference YouTube Page